I wanted to change my article's style, so this one is fully written in English in a freer style. Enjoy the lecture!

Back in April 2016 I traveled to San Francisco for the convention called BABSCon with a few of friends. There I discovered that this convention was filled with awesome people, and I very much enjoyed the memorable parties they had there. I had such a great time at this convention, that when I returned to France, I knew I had to relive this experience! So when people I met told me the Nightmare Nights was similar to BABSCon, I decided it was time to plan a new trip, this time into the heart of Texas.
I first started out by scouring Facebook for any Texas Brony groups, and after finding the Houston Brony Group, they accepted me. There I met a Brony named Hernan who proposed to host and drive me to the con. I was not expecting that much!
After 10 hours of flight, a night in an AirBnB and a Houston discovery by foot I reached Hernan's house. And what a house! For a moment I doubted that I was at the right place. Hernan had planned to make me discover the Texan way of life.
First we ate at Whataburger, a typical Texan fast-food chain. Then I met his BFF, a guy working in a gun store. And guess what? He brought some guns to show me. That's how I found myself holding a FN Five-Seven USG and an AR-15 – something inconceivable in France.
D-1
The next day, we drove to Dallas in Hernan's pickup. There is a saying, "everything's bigger in texas" and this I have confirmed with my own eyes. Underway to the convention, we made a stop at a Buc-ee's, which is something else interesting I discovered on the Texan roads. For a European guy, this big shop for travelers is quite amazing, for they have so many products labeled with these beaver-capped heads.
We finally arrived at the con hotel around high noon. I was surprised to see the convention was hosted in such a small hotel. But the size doesn't matter, right? Waiting in the hall for hotel registration, I met one of the two con chairs. His name is Bob, and he has a long grey beard – and I was amazed that I was greeted by an actual con chair. Later during the con he was wearing a suit in addition, giving him a unique style. I finally got my room registered, and dropped off all of my stuff inside. I knew that in just a few days this room would be a mess with stuff everywhere.
I started to meet heads I knew from the last con. Of course I'm talking about guys from Horse News. During the last BABSCon I stayed in touch with them via Twitter, reading all the stuff they said. It was pretty easy to recognize them due to their 4CC jerseys and scarves. To tell you the truth, at several points during the con, people of their group recognized me, which surprised me quite a bit. I only spoke with them a few times at BABScon, so how did they remember me? I dismissed the thought as I introduced them my two French friends I brought along with me.
First day
The three following days of the con just passed so fast. The first day was mainly a shopping day for me. You know me – I love to buy useless stuff as long as there is pony on it. I found out there was fewer vendors than I expected, but that did not prevent me from making a lot of purchases. Luckily enough, I managed to snag the only one copy of the Japanese pony manga of the con. Other than that, I found happiness in buying a Twilight jersey with my nickname on it, among various other items I purchased. At the same time, I was commissioned to buy TSSSF special cards for friends in France. Does it make me a card dealer now?
The Friday panels weren't interesting me that much, but the parties in the evening were. I had a peek at the official party/concert – but aside from 10 people moving on the stage and some others looking at them while lying against the walls, it seemed pretty dead. From then I moved on to the nighttime 18+ Panels there, and guess what? Guys from Horse News were making a panel about the drama in the community. That was perfect. People were captivated and interacting with the speakers. Even Bob was throwing out some stories of things he's seen and heard, though you could taste the palpable tension in the air.
At the end, the panelists put on the table a pile of ribbons « Blocked by Osaka Jack » and « Blocked by Nash » for the attendees. People rushed to get their hands on these ribbons, because the story behind it is that quite a lot of people are blocked by these two individuals on Twitter, for the only crime of interacting with Horse-News. It's happened so frequently and to so many people, that it has become a meme at this point. And I have to say, it was the perfect note to end the panel on. Now I got a Discord badge with the two ribbons under it. Quality!
But we weren't done with Friday yet, as we then moved to the Horse News suite where people were invited to join them for a little party. I don't remember the party that much; just that it was chill, there was a lot of alcohol, and I felt it was a good way to start the weekend.
Second day
Saturday, the big day of the convention. Unsurprisingly, we woke up late, trading some morning good panels for a few hours of sleep. I don't quite recall what I did this day, and writing an article about it weeks after doesn't help in the slightest. I remember having assisted some panels and traipsed in the con, taking photos of memorable moments. The Pony Millionaire panel had a crowded room, making a pony version of the famous TV show was a great idea!
For an unknown reason, we reunited our group of 3 at the bar hotel area around Dan, a guy met at the party the night before. Eating his burger, he taught us the story of Texas and the meaning of the Lone Star. He knew so much stuff about history and even some European geography. This was surprising to me, since there exists a stereotype that American people have the reputation to be dumb about those things. Later Dan revealed us his trick of his knowledge, he is a history teacher. Logical.
After we finished dinner, it was time to party! Once again, we checked out the official concert several times in the evening, but alas, it still wasn't very fun. Maybe I'm becoming bored or I'm getting old, but I didn't enjoy the concerts. Instead, I made my way once again to the Horse News party they were hosting for the second night in a row. What party animals!
The room was crowed, dakimakuras out and the bar full of bottles. The evening was starting! I noticed a GoPro stuck behind the bar near the ceiling, recording all the night's drunken antics. One more time I don't remember what I did, probably not much because of the crowd. Hopefully I didn't do anything embarrassing that was caught on camera! We left some time after to get the con's ambiance by night.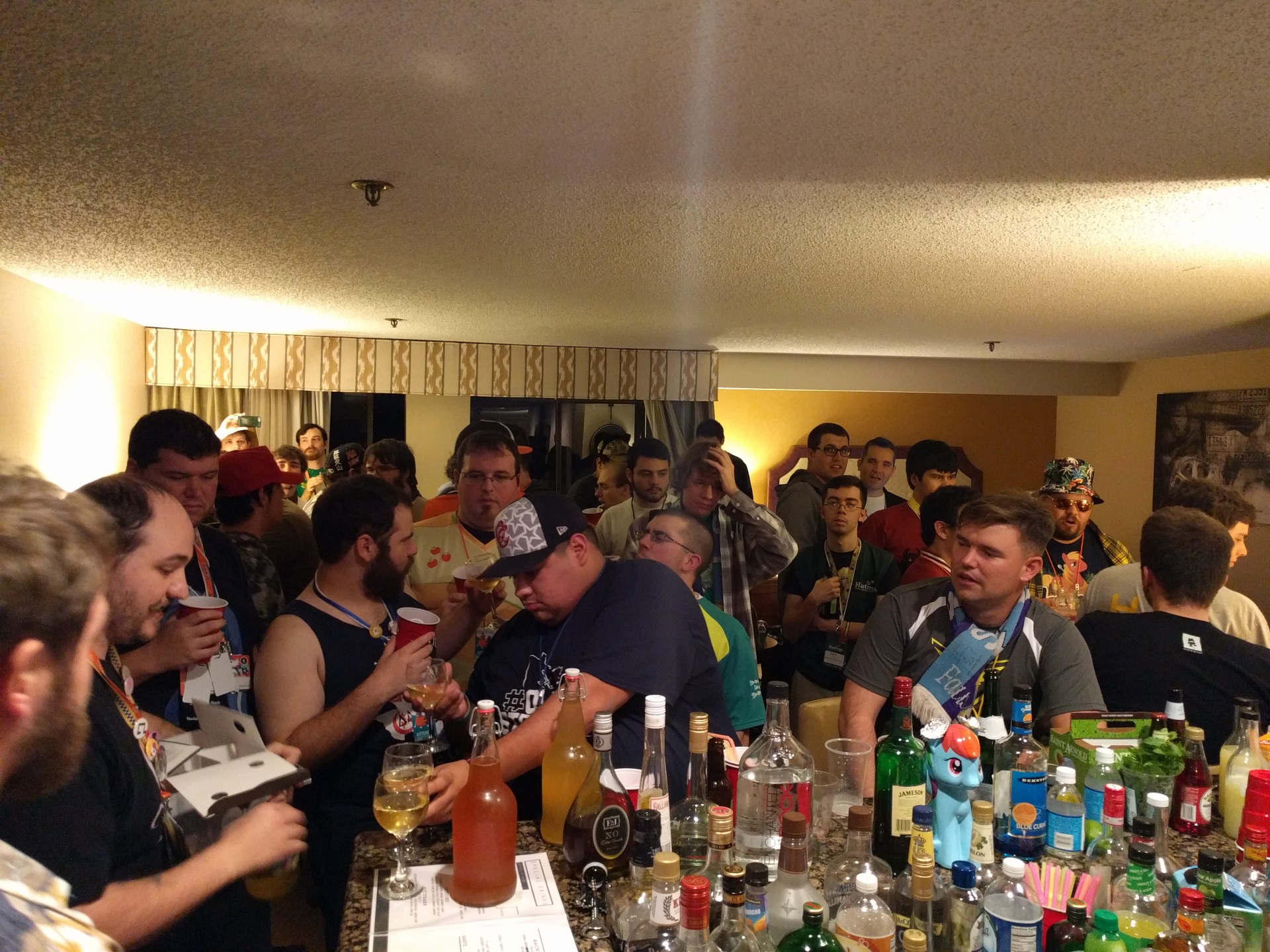 In the corridors we met Drawponies making some sketches. He did this during the entire con, since he was banned from selling in the vendor area due to the "Traceponies" drama, where he was caught tracing art from the show and selling it off as his own work. Sketches were free; a nice move to get fans back. Personally I'm still fan of Drawponies, I don't care about his drama and I loved to see him again. I couldn't resist to the opportunity to ask him for a sketch of Vinyl.
We heard the Horse News party was shut down due to noise complaints, but we had a backup plan, for Hernan had made his own party, and we were on the guest list. In his room were installed tables for beer-pong, a game we played with Fireball. For the story, that's what achieved our friend Antoine, who wound up drunkenly hugging Hernan often after that. One of my best memories of the con.
At the end of the party, we left the room all three together. We decided to make a last walk in the convention's hall when, in front of the main room, one of my friends exclaimed "hey that's Hernan!". And guess what? Hernan was sleeping on a chair. In the hall. I have no clue why he was here, and I guess that him neither.
Our friend back in his room, it was time to put an end to this evening. Or that's what we thought. It turned out that our neighbors were some of our new friends, and one of them, Steve, had planned to share a drink with us. And not a classic drink, red wine! France specialty. Unfortunately I'm not a big fan of this popular beverage, neither are my friends. I was disappointed for Steve, it was a nice idea, especially that he had bought a good bottle. At least it was good. I don't remember that much this part of the night, except when Antoine had the genius idea to put wine in my pony water bottle container. FOR CELESTIA'S SAKE, DON'T PUT WINE IN MY PONY WATER BOTTLE.
Last day
Last day of the convention, already. One more time, I'm writing this article too long after the facts and I'm not really sure about what I did on that day. But I'm pretty sure we woke up late, and probably with a hangover. After a night like the last one, I just wanted to relax in the spa. Apparently I wasn't the only one having this idea, because the hot tub was full of Horse News guys. Them again.
Last panels, Dustykatt throwing dutch waffles at people, me receiving a waffle in the hand while I was filming, then closing ceremony; this last afternoon was full of pleasing surprises. A girl cosplayed as Princess Derpy distributed adorkable letters, each one containing an attentive phrase. That was so cute!
After all those events, we were invited to taste the Texan BBQ with a part of the Horse News group and friends. We know the word "barbecue" in French, but it means to cook the meat in a more simple way. Here we had a choice of delicious tender meat which were been cooked slowly during a long time. It was delightful! For sure Texas know how to cook animal food. Want to know the funny part of this meal? We were accompanied by Yashn who is vegetarian. Yes, a vegetarian guy in a BBQ restaurant. Never mind, there were vegetables.
For the last night, we did nothing special, just chilled in our room.
…
No, just kidding, we made a party of course! And not to change, it was in the Horsefuckers room. This time the party was calmer than the previous one, but we got VIPs. At first FiMFlamFilosophy from the Rainbow Dash Presents series. I've not yet watched the videos, so I don't know about him but Antoine was so happy.
Then entered Jenn Blake and G.M. Berrow, two of the guests of honor. That was unexpected, and everyone was a little surprised. Shame on me, for not recognizing them at first. I definitely need to spend more time in panels than drinking in rooms. Ms. Blake didn't stayed long time, she didn't seem very at ease. A week later I learnt she suffers from brain cancer, that's why I think she was here, to discover about the fandom. I hope she enjoyed the venue.
It was fun to see Ms. Berrow as the mane attraction, everyone was rapt with attention, listening to the stories she was telling about the show. We tried to get information about season 7, but as a professional, she told us nothing. The opposite would have been surprising, but it was worth a try.
So, what to do during an evening with a guest of honor? Bring her to Derpibooru of course! Someone shown her a draw of "pregnant fluttershy", totally safe but strange enough to disturb the lady. And then, someone disabled the filters on the website. For people who know about this website, you are aware it is not a good idea. Especially when the guest takes the phone and types her name in the search bar. At this moment I was just thinking "oh please, find nothing shocking". I think Celestia heard about our pries, and the research just showed innocent results. We were saved.
Ending
In conclusion for my very first Nightmare Nights Dallas, I must admit I loved it. Making a convention with friends and making new friends is the best way to experiment the event. It was a little different from the BABSCon, but every convention has its own ambiance. It was a great pleasure to see you again guys!
Thanks a lot to Rhe7oric for correcting and improving this article. Seems I have still a long way to master English.
All my photos are online on my website !